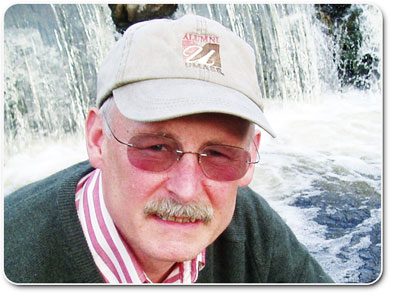 Steve Priest has a thirst for outdoor activities. Running, cross country skiing, biking, hiking, paddling, and triathlons are among the interests that keep him physically fit, mentally alert, and young.
When trying to explain his enthusiasm for outdoor actions, Steve paraphrases Thoreau's, "Discover I had not lived" with the expression, "Never say, 'I wish I had'." Steve does not want to rationalize a missed opportunity to enjoy life. Personal and physical barriers of embarrassment, reticence, and other priorities are not justification for saying, "I wish I had."
Steve has been a college professor and a healthcare administrator. He has written books and articles on information technology. These quests are professionally rewarding and intellectually challenging; however, they do not provide physical fitness.
His outdoor pursuit began after a torn Achilles tendon, a resultant limp, and weight gain. He turned to physical activity in search of a stress reliever as well as a "lifestyle for the long haul."
Steve's writings on 'Outdoor Play' enthusiastically portray the entertainment of the outdoors. Travel with Steve to meet the challenges of the outdoors that are the cornerstone of his lectures and stories.
Steve's 'Outdoor Play' multi-media presentations include:
* Hiking New Hampshire's Sunapee-Ragged-Kearsarge Greenway: 75-Miles and Fourteen Loop Trails
* Androscoggin Source to the Sea
* Maine's Knife Edge Trail to Baxter Peak at Northern Terminus of Appalachian Trail
* A Rescue on the Allagash Wilderness Waterway
* The Seasons of New Hampshire
* Canoe & Kayak Challenges on the East Branch of the Penobscot
* Paddling New Hampshire and Maine
* AMC's Madison Hut
* Hiking Mt Monadnock
* The Welch Dickey Mountain Trail
* Mount Washington via Tuckerman Ravine and Lion Head
Steve Priest resides in Sunapee, New Hampshire with Catherine, his wife of many years. They have two sons and two grandchildren.
Steve's books are available as hardcopy and e-Books at Amazon's Kindle and hardcopy at Morgan Hill Bookstore, New London, NH, Colby-Sawyer College Book Store, New London, NH, Dartmouth-Hitchcock Gift Shop, Lebanon, NH, and Village Sports, New London, NH.
If you're interested in having Steve speak, call (603) 582-2413 or visit outdoorsteve.com.